---
The author of this article, William Eastwood, worked for a Yale University professor on a secret invention at a private research and development facility at age 13. This is documented in the public record.
William Eastwood Internal Science and International Philosophy: The poor will become rich and the hungry will feast.
---
What do you think? If you do not already know the answer to that question, find out for yourself if mind forms matter. Look at the science (scroll down) and test the principle in your own life. We already know the answer (scroll down).
Internal Science & International Philosophy
---
The mind does filter perception on a conscious and subconscious level according to what you believe, think and feel. That alone will cause you to notice things that could help you achieve your goals. However, perception is only one aspect of the mind's functioning.
The mind creates and projects. The projection — your physical environment and life — is composed of consciousness. This view is supported by recent scientific discoveries.
David Bohm (How mind forms matter)
---

Physicist David Bohm, — who Albert Einstein called "a kindred spirit," and whose Ph.D. thesis — being top secret and classified — was awarded at the University of California at Berkeley by none other than Robert Oppenheimer — tells us that our physical reality is a holographic projection of the brain and five senses.
Cataclysmic natural disasters and human starvation or 1,000 years of peace. The choice is yours.
---
YOU CAN SAVE THE HUMAN RACE & YOURSELF AT THE SAME TIME!
Does international philosophy work?
As far as we know, neither
Albert Einstein
nor
physicist David Bohm
worked for a professor from one of the world's top ten universities at age 13, but
Eastwood did.
This interview is in the U.S. library system public microfilm database.
"Like many people in history who have challenged conventional beliefs, I experienced much resistance from the establishment early on in my life. Now I am an adult, stronger and more capable, and I have a powerful message for humanity." — William Eastwood.
.
Reemerging 40 years after working for a Yale professor in a research and development facility on a mysterious invention at age 13
— a modern version of an
astrolabe
accurate enough to be used by surveyors — and
Publishing 20+ BOOKS and 500+ FREE ARTICLES in five years
MIND FORMS MATTER:

International Philosophy by William Eastwood
---
The unhappiness and division in America is due to Americans thinking they know it all. They have not found answers, happiness or peace because of their beliefs. The world's problems are a result of using the wrong scientific paradigm to try to solve those problems. The same holds true around the world.
Max Planck says mind forms matter
---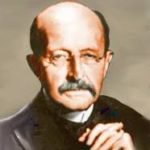 Max Planck, Nobel PrizeWinning father of quantum mechanics says, "I regard matter as a derivative from consciousness." — The Observer, 1931.
Bernard d'Espagnat believes mind forms matter
---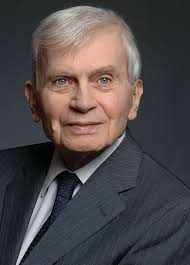 "The doctrine that the world is made up of objects whose existence is independent of human consciousness turns out to be in conflict with quantum mechanics and with facts established by experiment."
— Bernard d'Espagnat, a top theoretical physicist.
David Bohm says that the mind projects matter
---

Albert Einstein called David Bohm "a kindred spirit." Bohm's Ph.D. thesis — being top secret and classified — was awarded at the University of California at Berkeley by none other than Robert Oppenheimer.
Bohm tells us that our physical reality is a holographic projection of the brain and five senses.
Eastwood has been studying how the mind forms matter for over 45 years
---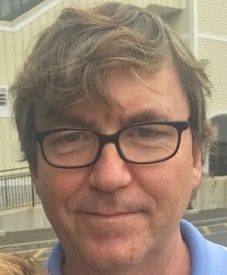 You are creating your own fantastic hologram — your own physical reality and time and space. Your consciousness exists in the field, not the brain, which is a transmitter. The moment is a range of perception. Your consciousness is infinite, indestructible and multidimensional.
You create your reality
---
There is no singular, one-world time-line.
You do not progress in a linear manner within time from birth to death.
You are not a three-dimensional self moving through a three-dimensional world from birth to death.
You and the world do not exist that way.
MIND FORMS MATTER ARTICLES
---
Articles by William Eastwood.
"I have exactly what you want to read today."
— William Eastwood.
The world's prominent physicists introduced the science that reveals how mind forms matter
---
An explanation of how mind forms matter is inherent in wave-particle duality.
The concept of an alive universe, a universe entirely composed of consciousness, is supported by the greatest scientific discovery of all time.

In his 1924 Ph.D. thesis and groundbreaking contributions to quantum theory, Nobel Prize winner,Louis de Broglie postulated the wave nature of electrons and suggested that all matter has wave properties.
This concept is known as–wave–particle duality, and forms a central part of the theory of quantum mechanics.
His 1924 thesis (Research on the Theory of the Quanta) based on the work of Max Planck and Albert Einstein on light, resulted in the de Broglie hypothesis that any moving particle or object had an associated wave. De Broglie thus created a new field in physics, or wave mechanics, uniting the physics of energy (wave) and matter (particle).
De Broglie developed a causal explanation of wave mechanics, which was refined by David Bohm in the 1950s.
The theory has since been known as the De Broglie–Bohm theory.His theory was supported by Einstein, and confirmed by G P Thomson, Davisson, Germer and Schrödinger.
De Broglie's wave–particle duality is extended to all particles and the laws of nature. This tells us that everything has a wave aspect.  
Every object has an electromagnetic wave with its own signature. Like a kind of barcode, this is the key to attracting what you want. The law of attraction is as reliable as gravity.
Which comes first, the wave or the particle? What do you believe?
---
Does matter form the wave or does the wave form matter? In our opinion, it is pretty obvious what the answer is.
Your body's (cellular) motion does not create the idea to move.
As all acts are preceded by an intent, be it on a conscious or subconscious level, all actions which form events are a result of information within the wave. 

Even the components of cells which continually replace their parts, do so according to the intent of the subconscious body consciousness.

The complexity and order of your cells replacing their parts is not a haphazard, chance creation. In the same way, all matter is a result of the information that forms and composes the wave.
The entire body has a nonphysical form that creates the physical body. The subconscious energy of which the body is composed creates the physical body.
Non-Classical Physics Thoughts ARE Reality
In reality, nothing is solid and mind forms matter
---
Physicists know that nothing is solid.
Solidity is a result of how our five senses react to non-solid energy.
If we can't pass through energy, we consider it solid, and so it functions as a solid in practical terms, but regardless of the fact that nothing is truly solid.
All physical matter is composed of fields of energy.

There is no duration to matter, it is continually generated in the same way light is when you turn a light switch on.

Conscious Energy Units (CEUs) form matter in the same way photons of light operate. Both travel at the speed of light.

Fields form matter.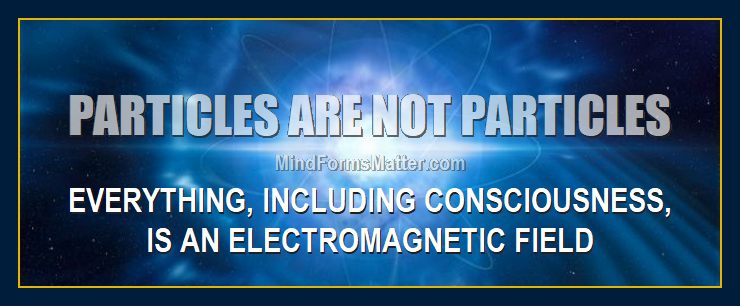 Physical matter is composed of non-solid fields of electrical energy. Waves are disturbances in those fields. Waves are the closest we get to particles, but waves are just energy moving around very fast.
The wave-aspect of anything in nature is an energy field that contains huge amounts of information.
What is a thought but an energy field containing information?
Everything is quantum consciousness. Mind can and does form matter because matter is composed of consciousness.
The field comes first and the mind collapses one probable event out of infinite probabilities
---
The brain does not produce consciousness, consciousness creates the brain.

The brain is a receiver.

The past does not create the present, consciousness creates past, present and future simultaneously.
Is there scientific evidence or proof that your thoughts create your reality?
---
Yes, there is scientific evidence and proof that mind forms matter, but not necessarily in individual instances of mind forming matter, rather, in the entire scientific paradigm.
There is a paradigm-shift taking place in science. We are in the process of transitioning from a set of myths based on physicalism to awareness of our true reality. Events are constructed on inner levels of consciousness according to what you believe, think and feel. 
The holographic theory of consciousness is largely based on the science of David Bohm. While the scientific method is reductionist and dissects to understand, Bohm's science is holistic, thus allowing Bohm's Internal Science to understand consciousness and External Science to fail to understand.
The holographic theory of consciousness says that the information in the whole is contained in each of its parts.
Electromagnetic waves have an infinite information storage capacity. When waves interact it is called interference and the original information from each wave in an interference pattern survives and can be extracted from each wave and read regardless.
Based on this view, the brain is understood to be a transmitter and receiver of information. The brain is a bioelectrical organism. The brain draws from the electromagnetic interference patterns that exist around us at all times. The brain thus draws from all information and adds new information to the whole.
Information is not stored in the brain, it is stored in the electromagnetic fields around us. Your thoughts, emotions and memories are not dependent on the existence of the brain. You exist as an individualized portion of the entire universe of information or what Bohm called the holomovement.
Your consciousness is a portion of the total electromagnetic field of the entire multidimensional universe.
Scattered thoughts display incoherence, meaning they go off in all directions from their point of origin, whereas focused thoughts are coherent like laser light. Focusing beliefs, thoughts and emotions is thus the key to personal power and the ability to both pick up information intuitively and manifest goals physically.
The brain, Bohm says, "may act like an antenna" to pick up information from the entire field of information of the universe.
Bohm says that if the mind is preoccupied with outer levels of reality, it is less able to pick up subtle information from the electromagnetic field. To pick up information from any source requires tuning to the frequency of the information sought.
The heart and body must be in coherence with the information of the subtle energies sought in order to experience profound intuition and identification.
To increase your bioelectrical sensitivity requires focusing and tuning the mind.
Bohm indicates that the "explicate order" (physical reality) is a projection from the "implicate order" (an inner reality of information) which underlies everything. Information guides the process by which matter is organized as the forms we then perceive. The collapsing wave function enters in, thus introducing the role human consciousness plays in the formation of the universe. Without an observer there is "only" electromagnetic energy containing information (consciousness).
Internal Science and International Philosophy adds its own unique perspective in a way that makes sense of Bohm's holographic universe.
Why isn't this better known?
---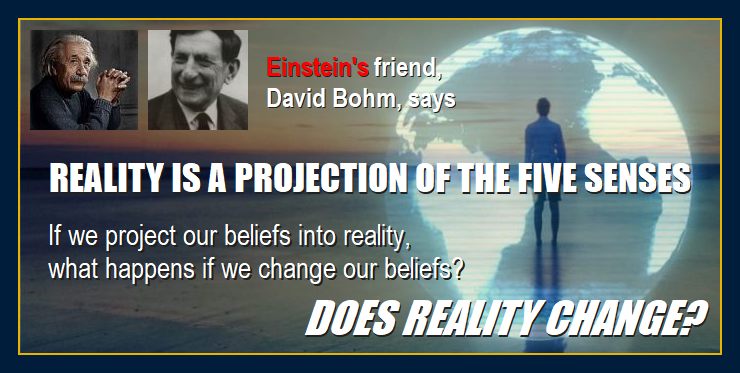 Do quantum physicists say that mind forms matter?
---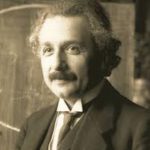 Many physicists do believe the universe is made up of or contains consciousness, and that mind forms matter, but they do not usually professionally or publicly-announce it.
Most physicists stop short of publicly saying thoughts create matter and that consciousness is primary because saying so is a form of scientific heresy that invites attack from a prejudice majority.
Our institutions and legal system are also based on the old mechanistic paradigm. If it were true that mind forms matter, that new premise would dismantle most accumulated knowledge in all fields.
"Consciousness and matter are the same thing. The difference between mind  and matter is the same as the difference between water and ice. Both are the same substance."
The mind forms matter and creates reality via a continuous projection. Reality wasn't created in the past, it is an ongoing projection of the mind.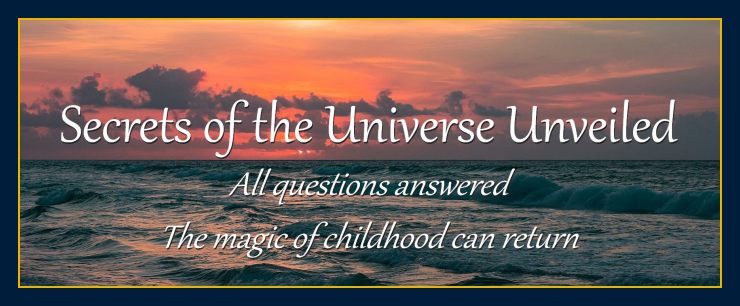 I do not use cookies or mailing lists, and I do not advertise anything other than my own books on this site.
Kindness and human charity matter
---
A story with a powerful message.
I discovered a treasure while cleaning up trash along a country road
---

At age seven I told my friend, "If you do good things, good things will happen to you," as I pointed to a rock in an old stone wall and asked him to hand it to me. We had collected roadside trash and put it in a depression in the ground. We had been cleaning up a local road after school back in 1970, before the environmental movement even began.
I dropped the rock on the trash to conceal it (all that we knew to do at that age). With the trash buried, I turned to look at my friend. There had been a shoe box filled with old coins behind the rock I had asked for and he had the coins spread out on top of the stone wall. We filled our pockets and headed home to tell everyone we had discovered treasure! It was one of the moments you can never forget and perhaps the best day of my early childhood.
You hold the future in your hands
Grass Roots
Bring my grassroots institutions to the world where they can help people everywhere.
When you buy a book, you help me to fund
Earth-Network.org
to make it a non-profit and help help people the world over.
BOOKS
---
BY WILLIAM EASTWOOD for Earth Network
THE PURCHASE OF YOUR BOOK(S) IS A DONATION!

Donate to help people internationally
---
Book manufacturer (cut out the middleman / most recent versions of books).
Prices provided in U.S. dollars: Convert U.S. dollars to foreign currency.
World Help • Education • Environment • the Inner UN
---
The world needs your help. When you buy a book, you invest in a mission to bring about a better world and cause that reaches out to every hungry child and dark corner on earth. When we are done, nothing will be the same. 
When you buy a book, you help me to fund Earth-Network.org to make it a non-profit and help to bring my grassroots institutions to the world where they can help people everywhere.
EASTWOOD'S SOLUTION
---
Don't be incapacitated for the rest of your life!
Don't be incapacitated for the rest of your life!
It would be a tragedy to spend a life incapacitated and in a state of extreme frustration only because you failed to realize what is holding you back. "The Solution…" tells you exactly what is holding the individual and the civilization back.
The 2023 "Solution…" provides you with 460 pages of insights into this universal barrier to success and a remarkable new way of looking at the universe supported by two of the world's  most  eminent thinkers ― Stanford neurophysiologist Karl Pribram, and University of London physicist David Bohm, a former colleague of Einstein's.
"In editing 'The Solution…', my perspective as a scientist with two doctorates in theology is that 'The Solution…' bridges science, metaphysics and true religion.
— Mario Fusco TP.D, RS.D, BSC.
"We can literally change the course of civilization by lifting the race to a higher path through implementing the solution."
— Mario Fusco TP.D, RS.D, BSC.

Don't waste your life! If you fail to order now, you miss a critical opportunity to learn the one thing that is holding the individual and the human race back.