---

MIND FORMS MATTER: EARTH NETWORK: Learn How Your Mind Forms Matter & Reality
Nobel Prize Winner's Findings:

Facts & Proof Your Thoughts Create Your Reality
Nobel Prize Winner's Findings: Proof Your Thoughts Create Reality
---
The scientific evidence

is right in front of us.
The concept of an alive universe, a universe entirely composed of consciousness, is supported by the greatest scientific discovery of all time. An explanation of how consciousness creates matter is inherent in wave-particle duality.

Physicist Louis de Broglie, Nobel Prize winner and author of the de Broglie hypothesis demonstrates all matter to be electromagnetic fields/waves of energy.
Niels Bohr, university of Copenhagen physicist and Nobel Prize winner, confirmed that matter is like a beam of light.
Max Tegmark of MIT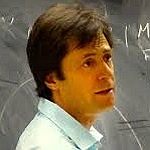 Click on the "Max Tegmark of MIT" button below to see current official confirmation from a respected physicist in the scientific community that matter is a state of consciousness.
45 year study. Hundreds of articles
C = Ef:  MIND FORMS MATTER - FAST TRACK TO SUCCESS
Your Fast Track to Success  links (C = Ef) above load in milliseconds
Click Image for EN founder's video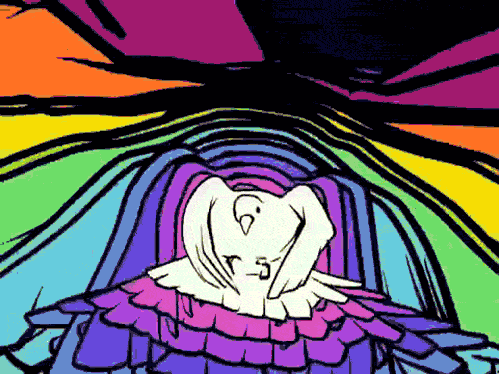 Click above
Is Reality Is a Projection of Consciousness?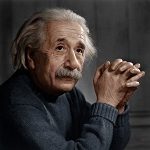 What you see around you is real, it is just that reality is not what we once thought it was. 
"Reality is merely an illusion, albeit a very persistent one" — Albert Einstein.
This short article is to introduce you to the recent findings in science supporting what indigenous cultures, sages, and mystics have known for thousands of years, that mind forms matter. 
"The only thing that interferes with my learning is my education. "
.
— Albert Einstein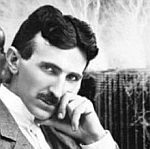 "My brain is only a receiver"
— Nikola Tesla
"The day science begins to study non-physical phenomena, it will make more progress in one decade than in all the previous centuries of its existence."
— Nikola Tesla
Find Out for Yourself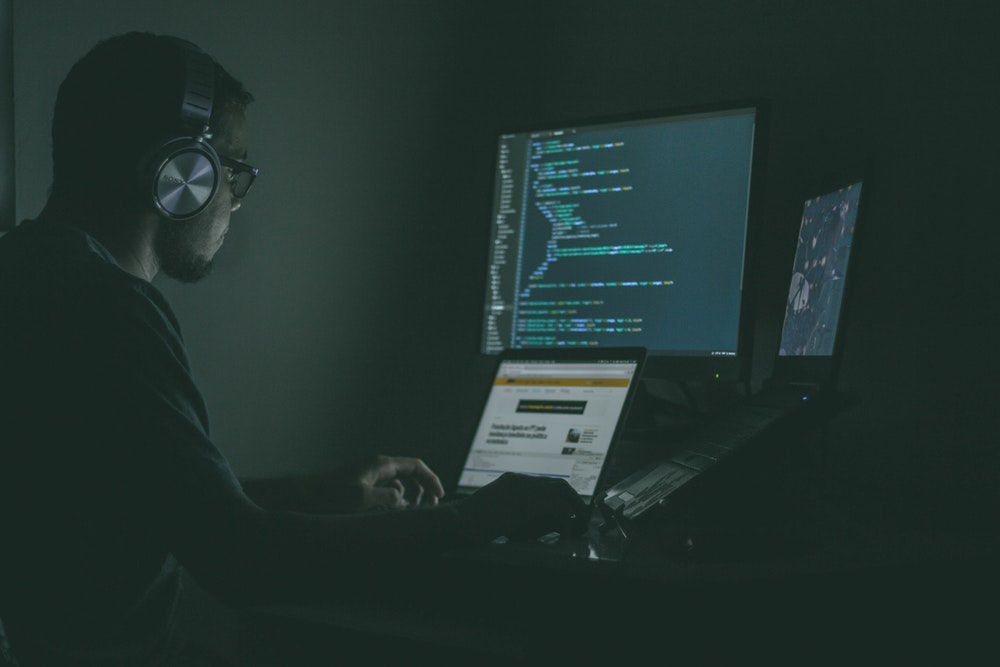 Click above
Try finding out for yourself by outflowing thoughts and emotions in a specific way, and then watch what happens.
EVENTS WILL CHANGE

Reality Is a Projection.
Matter is a Hologram.
Consciousness Forms Matter.
Scientific Facts.
Proof Your Thoughts Manifest.
Your Mind Creates
Your Reality.
Einstein.
Nobel Prize Winners
Click above
YOUR BRAIN AND FIVE SENSES PROJECT A HOLOGRAPHIC IMAGE FROM THE ZERO POINT FIELD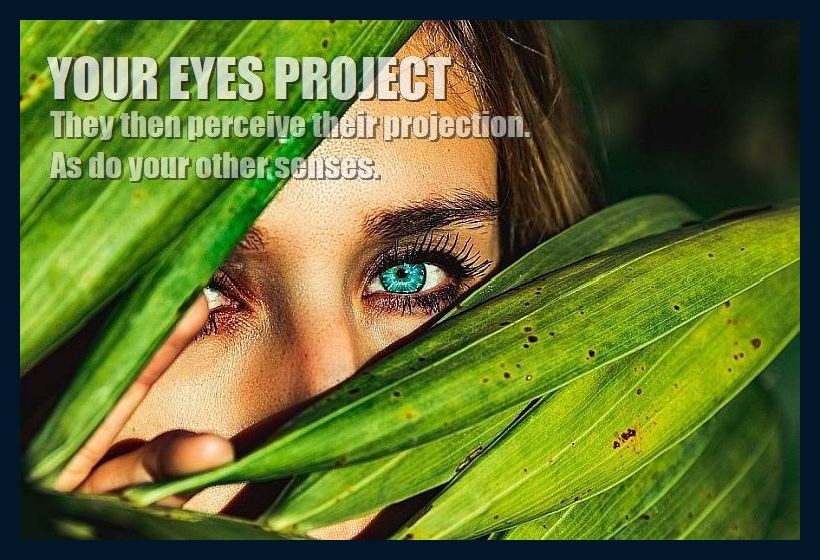 Click above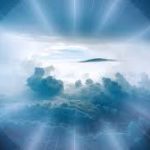 We already know the senses perceive, but they also project, and this is what is not widely known. The senses project and then perceive. Your thoughts literally create your reality.
The projection is a consciousness hologram.
.
Consciousness is an electromagnetic wave. Matter is an electromagnetic wave. Science is in the process of a revolutionary paradigm shift, and it is good to see.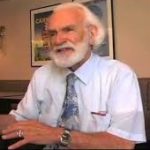 Dennis Gabor,¹ Nobel Prize winner and professor at CERN² in Switzerland, British physicist Peter Marcer, and neurosurgeon Karl Pribram (Stanford & Yale professor), demonstrated that we do not see objects per se, but instead construct an image in the brain by extracting holographic images from the ZPF. 
The eyes then project that image out into space. Our other senses also project.  
DISCOVER MAGAZINE Life creates the cosmos
In other words, your reality is a dream-like projection originating from an inner dimension. 
What is the nature of this inner dimension?
WHERE DOES THE INFORMATION TO BE PROJECTED COME FROM?
The content to be projected is retrieved by the brain through the Zero Point Field (ZPF). The ZPF is everywhere. It is a threshold to a deeper level of existence where the actual creation of events occurs.
The information retrieved is then projected into a field of energy we perceive to be matter/reality.
---
"Education is what remains after one has forgotten what one has learned in school."
— Albert Einstein, Nobel Prize winner.
---
Click above
Hierarchies of Dimensions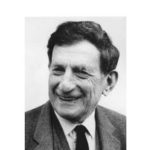 David Bohm, who wrote the classic college textbook, Quantum Theory, hypothesized a hierarchy of dimensions. Sages will tell you that all these dimensions comprise an inner primary reality composed of consciousness,  of which this reality is a projection. 
Bohm's Paradigm
This primary reality is infinite.
This is where you come from and where you will return. From this level we create this reality.
Mind forms reality, but the actual work of creating events occurs in an inner level of consciousness.

David Bohm

would say that the level (dimension) above us orders (creates) this one.
The Nasa interstellar craft proposal is as substantial evidence as I can give you on the existence of the ZPF (link below).
Bohm's theory and holographic theory suggest how a reality in which thoughts form matter could operate.
And finally, the collaboration of scientists worldwide offers proof that collective thought energy is in the atmosphere.
Additionally, the Princeton Study meta-data collected from the Random Event Generators they use proves that thoughts influence matter on a quantum level.
---
"The important thing is to not stop questioning. Curiosity has its own reason for existing."
— Albert Einstein
You create your reality
---
Notes: Dennis Gabor (1900 – 1979) electrical engineer and physicist, who invented holography, for which he later received the 1971 Nobel Prize in Physics.
Notes: The European Organization for Nuclear Research, CERN, is a European research organization near Geneva that operates the largest particle physics laboratory in the world. CERN is also the birthplace of the World Wide Web (the internet).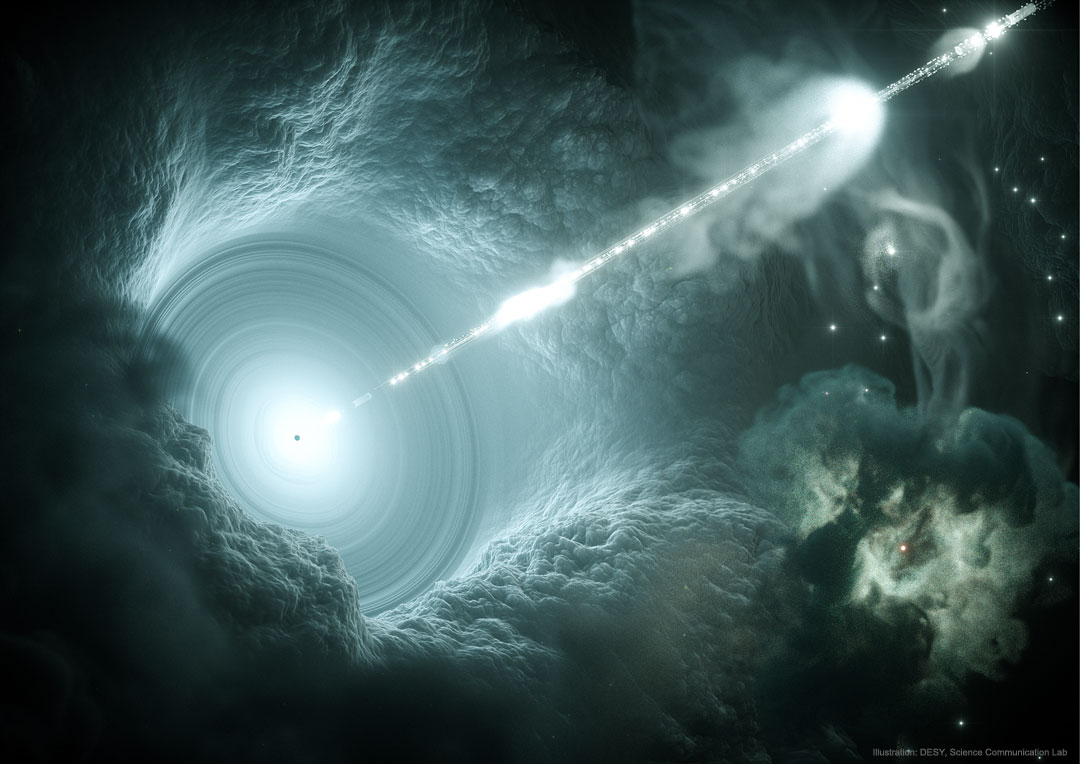 Click above
NASA

VALIDATION OF THE ZERO POINT FIELD

NASA funded a research project at Lockheed Martin Advanced Technology Center in Palo Alto and at California State University in Long Beach to develop a spacecraft propulsion system drawing on the energy of the ZPF. Click here to see the paper, Advances in the Proposed Electromagnetic Zero-Point Field Theory of Inertia, by Bernhard Haisch, Solar & Astrophysics Laboratory, Lockheed Martin, 3251 Hanover St., Palo Alto, CA 94304.
NASA Interstellar Mission ZPF Research Contract
The Zero Point Field Explained

Zero Point Field energy is consciousness emerging as matter. Virtual particles appear mysteriously out of an unknown dimension.
What Does the ZERO POINT FIELD tell us?
Scroll down to continue reading article.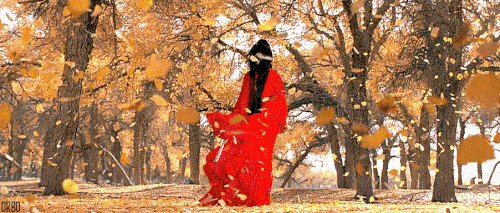 The Secrets of the Universe Unveiled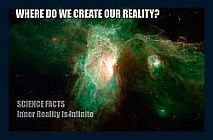 Article resumes.
Your Thoughts Form Matter & Create Your Reality
How to find your own proof that mind forms matter
The proof you may be looking for can be found in application. When you practice the principles of conscious creation you will see for yourself that thoughts create matter. The proof that thoughts form matter is there if you are willing to take the time to see.
What is consciousness?
No experiment can rule out a theory if the theory provides for all possible outcomes. Consciousness creates all possibilities, because consciousness is the source of all realities.
Consciousness is not a result of mathematics, instead complex mathematics is a reflection of the inherent complexity of consciousness.
All matter in the universe is a manifestation of consciousness.
Consciousness Creates Matter Proof & Facts
Only consciousness can create more consciousness. Consciousness cannot create anything that is non-consciousness or nonliving. There is no such thing as dead or nonliving matter.
Life doesn't enter into matter and fill it with life, because everything that exists is alive whether or not it is animated. Everything is composed of the life force we call consciousness.
A fetus, however, is composed of the consciousness of the mother until at a certain point the human spirit enters in. This can happen from shortly after conception to shortly after birth.
A speck of dust is a speck of consciousness molded into what we perceive to be a particle. But the appearance is the tip of the iceberg. Physicists know everything has a wave component, and this speaks to the greater reality of even the speck of dust.
The speck of dust is not conscious like a human, but it is composed of consciousness that exists everywhere, between and within all physical objects.
Non-consciousness cannot create consciousness. For one, as explained, there is no such thing as non-consciousness or unconscious.
A material apparatus cannot create artificial intelligence, for example. Consciousness cannot be created by anything physical.
Consciousness exists first and then manifests as time and space, as material objects such as human beings, and as subjective phenomena such as your soul and your thoughts.
The soul and the body are not independent states or phenomena. There is no mind-body dualism. The mind and body are more like opposite sides of the same coin. The body is of consciousness.
The cells have a non-physical counterpart. Each cell in your body exists first as a cell composed entirely of consciousness. This is the equivalent of what scientists call the wave state. The non-physical cell then manifest its physical form by appearing in the range of time-space.
Cells have a consciousness of their own which transcends our fixation in time. When you have an emotional reaction it is often a result of cellular recognition of a past or future event which was either traumatic or pleasurable.
The complexity we see in nature and in quantum physics is a result of the complexity of consciousness. The complexity of atomic structure is a mirror image of the complexity of the consciousness of which it is composed and created out of.
Consciousness is like clay that can be formed into any kind of object or phenomena. It is an amazing substance that becomes whatever it imagines itself to be.
The original causal substance of reality is consciousness.  Nothing can exist outside of consciousness because consciousness cannot create anything that is not consciousness.
Consciousness cannot create anything that is not what it is. It can only multiply that which it is. You can't get oranges from grapes.
Consciousness creates more consciousness in that consciousness manifests in unlimited ways as dimensions such as our familiar time-space, material and non-material phenomena.
Consciousness is the original causal substance and is all that exists. Anything created out of consciousness is a substrate of consciousness and will reflect the characteristics of the formative consciousness. But they are not two different things, and one is not independent of the other.
An object is a state of consciousness. An object is a camouflage. It is not what it appears to be. Any object is directly connected to the entire universe. Like holographic film, the whole is enfolded in each of its parts.
Exploration in the future will be inward.  When consciousness travels inward it opens up to  outer realities.  Time-space dimensions are created from within and then exteriorize.
Consciousness exists in a non-material state as your mind, your thoughts and all your subjective activity.
All consciousness is connected, yet individualized. All consciousness is an electromagnetic field.
As confirmed by quantum mechanics, there is a single energy movement.
This single energy movement, an aspect of which is sometimes called a wave or field by scientists, is a single consciousness that existed prior to any physical constructions.
There is no time. This single energy movement or consciousness always existed. Everything is formed out of this consciousness.
All identities such as you and me, and all physical realities have always existed in latent form within this single consciousness.
Identity and consciousness
Fundamental consciousness is a result of action within vitality attempting to maintain stability balanced by its desire for change and creation. Action within vitality steps apart from itself as we look in a mirror at our self and this creates awareness of itself, which is what I call fundamental consciousness.
From fundamental Consciousness another process occurs to create ego type consciousness, which is what we are.
Consciousness is action within vitality. Our kind of consciousness, what I call ego consciousness, is an attempt of spiritual consciousness to separate itself and view the rest of action within vitality as existing outside of itself.
As confirmed by quantum mechanics, there is a single energy movement. All that exists has always existed in latent form within this single consciousness.
Identity is separateness within unity. A mind is action within vitality stepping apart from itself and viewing itself as a separate unit. You, being identity, perceive the rest of reality as something that exists outside of yourself.
Our perception of time and space is limited. We narrow down an infinite reality of unlimited times and places to a small range that we are capable of perceiving and processing.
A moment is just a limited range of perception. What we call the past and future are what exists beyond what we can see within that range of perception.
It is ignorant to think that what we cannot see does not exist. The past and the future exist now, we just can't perceive either because our consciousness is an ego type consciousness which has limited perception and sees itself as separate and defined (limited).
Ego type consciousness is secure and can now expand to see more, and that is the next step in our conscious evolution.
Nature & Characteristics of Consciousness
Theory & Science of Consciousness
CONSCIOUSNESS and Human Nature
CONSCIOUS EVOLUTION 3 Steps to Your Mastery!

Your Multidimensional Self & Probabilities
Every decision you make creates another probable self in another physical universe. However, you are connected to each probable self through the whole self. The whole self is what you are.  Quantum physics, Many-Worlds interpretation.
Many-Worlds Outside of Time
Click above
Reality Is a Nonphysical Field of Energy
Sean Carroll, Harvard graduate, research professor at Caltec (center of NASA research and one of the world's top-ten universities ) explains that there is no solid universe. Everything is composed of fields of energy.
The universe is nothing more than a thought materialized. The chair you are sitting on is not solid. It is an illusion created by the mind.
You are a multidimensional self travelling thought probabilities
Give this concept a chance, I assure you that it is a pain fact of reality that you are multidimensional. You create your reality. Reality is a field of emotional energy and unlimited probabilities.
MODERN MYTH 
Since your beliefs create your reality, if you are convinced your past determines your present, then you are bound by what you perceive to be the ironclad law of cause and effect.
Break down conservative beliefs, and unforeseen remarkable events will occur with increasing ferocity and frequency!
REAL SCHOOL: FREE Liberation From Myth!
The Problem Causing All Other Problems
New Institution Can Heal Society
Be your own authority & rely on yourself
The proof will come from your own experience rather than Nobel prize winners. If you learn more, your own experience will be far more convincing than what any scientist or authority can say to you. Never place the words of others above your own self and feelings.
The proof your mind forms matter is the projection around you
Time and space are illusions. Reality is a projection of the mind. What you see around you are probabilities you have attracted and manifested by your beliefs, thoughts and emotions.
There is a great amount of information on manifesting and probabilities in our four sites.
Anything is possible. You control the manifestation of everything in your life.


Helping you to create the life you want!
Your own personal  METAPHYSICAL LIBRARY!
.

The drop-down boxes & buttons lead you to profound & amazing metaphysical insights. The Solution to Problems. Manifest Unlimited Money..
---
Click on the drop-down boxes to find the information you need.
Click above
Scroll down to continue reading article.
---
Why the whole world suffers!
Man with pointing finger depicts the inner judge within people that holds them back.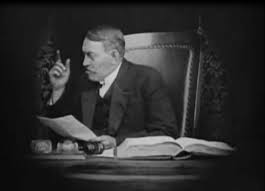 In 99 of every 100 people, the parasite—

the internal judge & victim

—has control of their mind and life!
The Inner Judge & Victim Control Us  With awareness of the problem you can solve it and be free of all obstacles!
Can I Trust Myself & Control My Destiny?  With understanding & application you can have anything you want!
New Institution Can Heal Society
---
Article continues.
Click above
How do thoughts create matter?
The conscious mind directs unconscious activity that results in the actualization of our beliefs, thoughts and emotions.
Thoughts are energy which continues to exist. Thoughts combine with similar thoughts on inner levels. These turn into probable events which contain the impetus and pattern necessary to evolve into the complexity of matter.
Once sufficient intensity is achieved and certain requirements met, selected probable events manifest as ordinary events.
The balance of your thoughts, intentions, expectations, and those areas where you are focused or deeply emotionally involved will materialize as dominant areas of experience.
How do I create what I want?
It may take determination and resolve to change your position, circumstances and personal experience, but negative thoughts and moods will hold you back.
It is necessary to take back control of your mind and life from the internal judge and victim. The voices that tell you what is possible or not possible that come from within you are like little personalities with their own opinions. These are the voices of beliefs you hold.
These beliefs that exist in your subconscious were created when you were very young. You internalize the beliefs and values of your parents and the entire civilization.
Contemporary worldviews are based on myth. To be free to create what you want you must dispense with those particular myths that you internalized as a youth. Doing so will allow you to create everything you want in life effortlessly.
You are in control of your life. The conscious mind controls what enters and grows in the subconscious. You must gain awareness of what you are telling yourself is or is not true in your head. Then you must learn to project what you want in belief, thought, imagination, expectation, affirmation and emotion.
Do not abdicate your control by neglecting or denying it!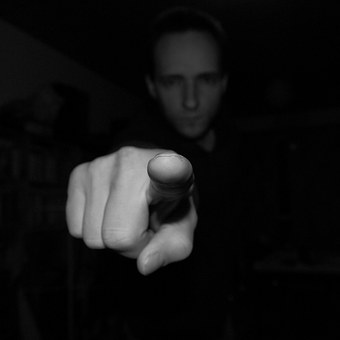 Don't let the parasite—the Internal Judge & Victim—control your mind and life.
The Inner Judge & Victim Control Us
THE ULTIMATE Life and Future!  Make your life a masterpiece of success. You can be free to create any reality you want to experience.
Can I Trust Myself & Control My Destiny?  With understanding and application you can have anything you want!.

You Are a Very Beautiful Person
NOBEL PRIZE WINNER'S FINDINGS – Proof Your Thoughts Create Your Reality
Copyright © 2019, By: William Eastwood.
Knowledge is money, power and love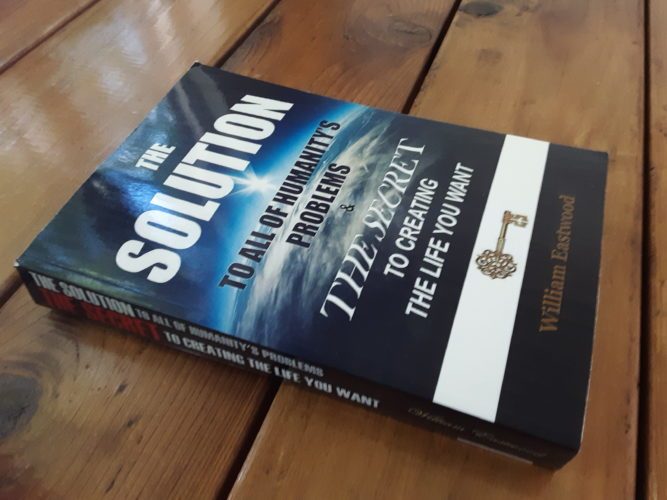 THE SOLUTION TO ALL OF HUMANITY'S  PROBLEMS & The Secret to Creating the Life You Want
By the author of this article.
BRAND NEW EDITION: Published on 4/24/2019
6" by 9" paperback: 450 pages.
List Price: $36.95.  Price: $25.87 You Save: $11.08 ( 30% )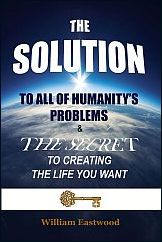 FIVE NOBEL PRIZE WINNERS VALIDATE THIS PHILOSOPHY. You have the power to create anything you want in life.
Groundbreaking complete scientific guide to create the life you want. A unique philosophy that bridges science, metaphysics & true religion. This extensive & easy to understand book reveals what may be preventing your success and what is preventing the success of civilization.
The invisible barriers that may be keeping you from achieving your desires or experiencing happiness, love and success can be evaporated simply by reading this book. You can then more easily manifest anything your heart desires.
Additional description provided with eBook and on Lulu.com.
NOTE: The content in this website is based on this book.
Other EN eBooks and paperbacks available.

               
Helping you to create the life you want!
RESEARCHING CONSCIOUSNESS SINCE 1975

Achieve all your ambitions with POWERFUL EN books
EARTH NETWORK BOOKS By William Eastwood

Anything is possible. Create your dreams. Start today.

KNOW WHO YOU ARE:  We need to wake-up within the dream, and enter our true life.

Anything is possible. Create your dreams. Start today.

THE SECRETS OF THE UNIVERSE UNVEILED: A sample of chapter one of the EN course.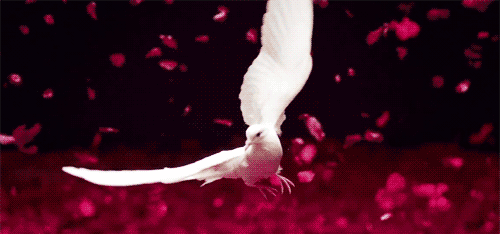 For affirmations

click on the rotating earth

at the top of every page.
The only insurance that things will go your way.

Everything you need to know to create the life you want!


EN's Course
You Are a Beautiful Person
- Key to Freedom
EN'S NEW manifesting course
6" by 9" paperback: 358 pages.
List Price: $34.99.  Price: $24.49 You Save: $10.50 ( 30% )
EVERYTHING YOU NEED TO CREATE THE LIFE YOU WANT!
Reveals how you can manifest any reality you desire.
Put an end to all your limitations & acquire the knowledge you need to create all your desires. The best of everything includes the full range of subjects in the four EN websites. A lifetime worth of learning, and all of William Eastwood's teachings.
The past does not create the present. Nothing is as we were taught, there is a new art and science to be learned. You exist at the center of a web of probabilities. Each thought and emotion you have will alter what manifests next in your life. If you are adamant about having what you want in your life you had better get it right.
If you follow the masses, you will be as a sheep led off a cliff by the great myths of modern man. Do not gamble your life on majority belief. Your life is too precious. There is no time to waste. Basis of THE KEYS, guidebooks on how to free yourself of all limitations in life.
Additional description provided with eBook and on Lulu.com.
Other EN eBooks and paperbacks available.
---
Create Quantum Doors TO ALL YOUR DESIRES
---

The First Key
to Freedom
By the author of this article.
The EN course continues: eBook (ePub)
NEW publication: (pub. 3/21/19)
Price: $3.99
You are not moving through time and space, you are projecting a physical "movie" you enter into. Your beliefs, thoughts and emotions create your reality. This simple guide show you how. Master the process of conscious creation.
With a magic genie inside you, anything is possible. Specific positive thoughts and emotions will manifest as specific positive events, but their is a time lag and science involved. You have to know how it is done. When William Eastwood explains how to master the process, goals and desires can easily be achieved.
Don't hesitate, get The First Key now and get on the road to your dreams.
Additional description provided with paperback and on Lulu.com.
Other EN eBooks and paperbacks available.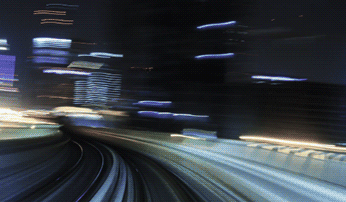 FAST TRACK TO SUCCESS:  C = Ef

Your Fast Track to Success  links (C = Ef) above load in milliseconds

What Mind Forms Matter has to offer you
MIND FORMS MATTER: Helping you to create the life you want
45 year study. Hundreds of articles!
Get the facts from the best sites
Get the scientific proof and facts of how consciousness creates matter, at the leading site, Thoughts Create Matter.
You may want to start your journey with this excellent article explaining how consciousness forms matter and mind forms reality.
Multidimensional self, soul & spirit
Click on this link if you want to understand the multidimensional human spirit, soul or inner-self.
For health and the altruistic movement by William Eastwood, visit thoughts form matter.
Learn how the brain does not produce consciousness on this great article.
Click here to find out if thoughts affect matter & influence events?
Go to the new paradigm article to get your mind over matter facts.
For thoughts create matter self-help metaphysics books visit this page.
If you have you ever thought, do my thoughts influence matter, reality, people and events, click here.
What is the Age of Aquarius? Definition of Spiritual Age, New Age &  Metabiological Evolution.
Life is as beautiful as it is amazing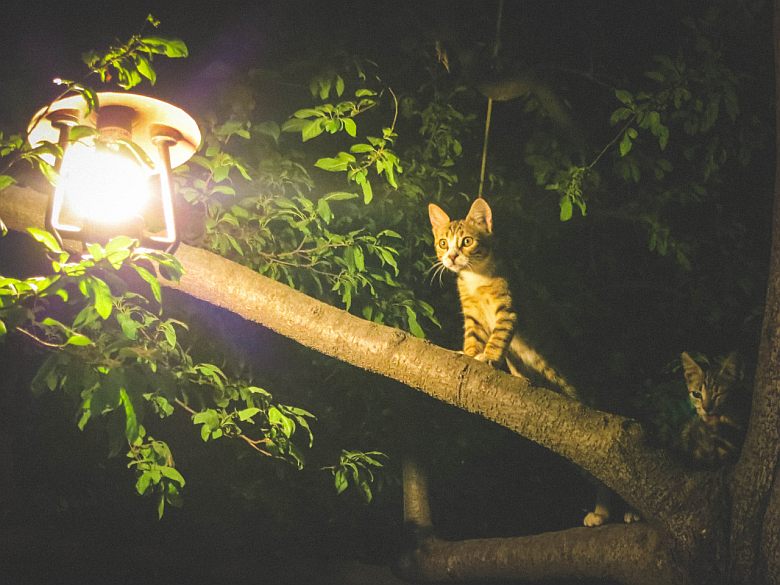 Curiosity sustains life. 
The Universe is discovering itself
Categories: Proof your thoughts create your reality. How do my thoughts create matter & my reality? How does my mind form matter? How does mind form reality and happiness? Proof your thoughts affect & create your life, reality and matter. Click on our site to learn more.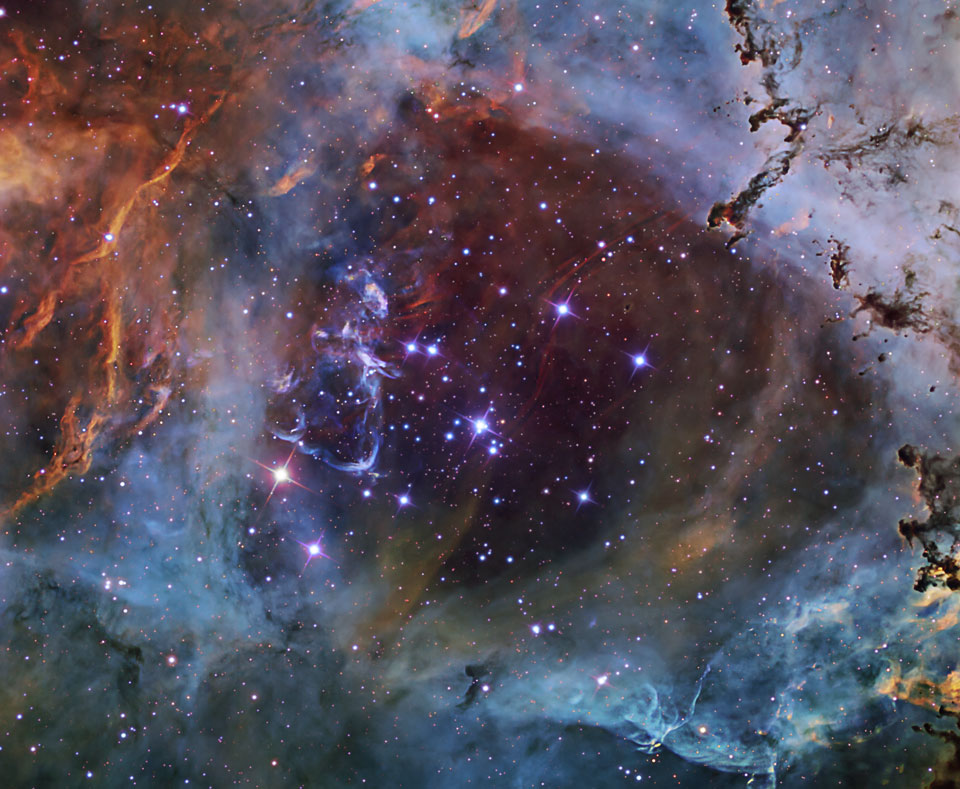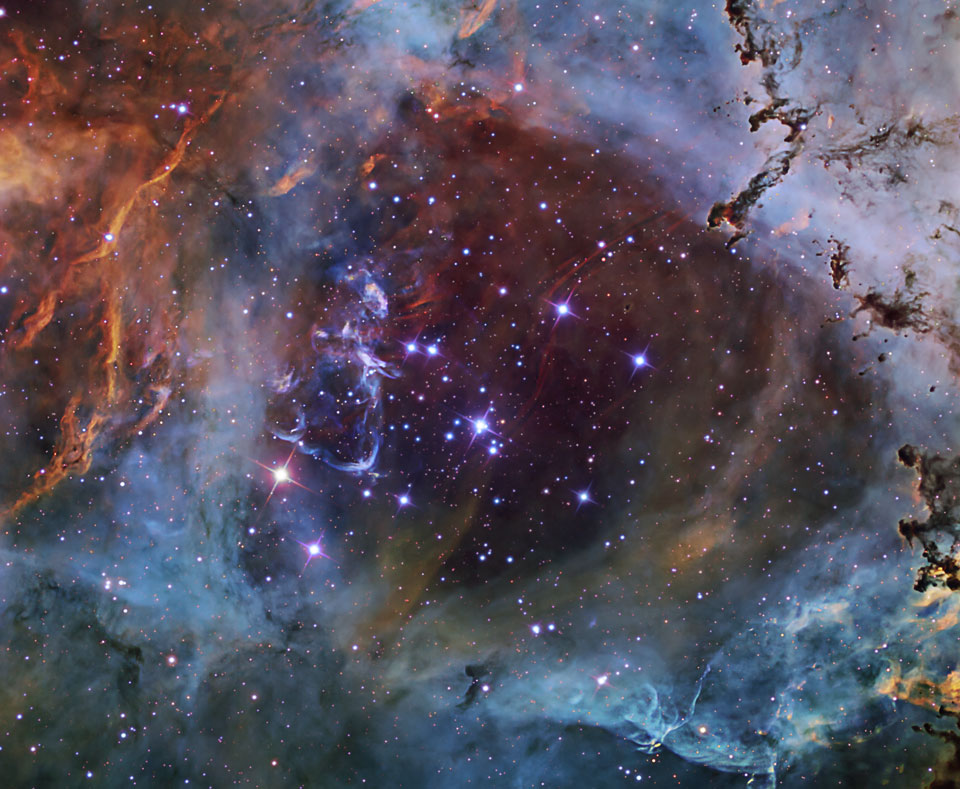 NOBEL PRIZE WINNER'S  FINDINGS – Proof Your Thoughts Create Your Reality
The chair you are sitting on is not solid. It is an illusion created by the mind. You manifest it.
Nothing in the universe is more powerful than a thought. Thoughts are so powerful that they create the entire physical universe. Nothing can stop your thoughts from manifesting but your own thoughts.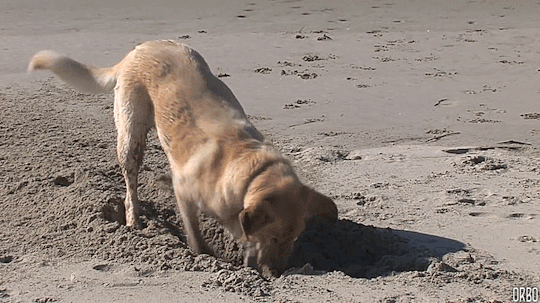 The concepts conveyed in this website are within these books.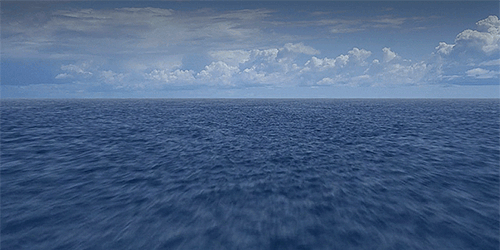 www.MindFormsMatter.com